We customize cultural immersion tours for creative travelers.
Meet the real Cuba in your own way; have a fun and meaningful adventure. Our custom tours are designed for small groups that want a down-to-earth experience with dynamic, entrepreneurial Cubans "in support of the Cuban people".
Like many visitors to Cuba, you'll have a chance to enjoy Cuba's classic cars and mesmerizing architecture, visit the country's gorgeous beaches and lush countryside. With CAA, you'll also get to know warm, vibrant people and feel Cuba's proud community spirit. Salsa's living roots will take you by the hand and invite you to dance. Locally-owned guest houses and charismatic, knowledgeable local guides will give you a window directly into Cuban people's lives.
You'll get to know Havana's colorful neighborhoods, and if you choose you can fill your sketchbook or photo album with fascinating images. Guaranteed, you'll share thoughtful, inspiring conversations and experiences with great Cubans. Your trip also helps fund local projects and provides excellent employment for our talented team of locals.
Cuba Art Adventures itineraries are customized for your small group. To get started organizing a trip, just let us know your preferred dates of travel and number of travel partners, then we will help you design your adventure - or join a group of individuals.
Is it legal and safe to travel to Cuba?
Travel to Cuba is legal and easy with Cuba Art Adventures under the "support for the Cuban people" travel category. The US government's June 2019 guidelines require travelers in this category to maintain a full itinerary that brings them in contact with Cubans and supports small enterprise by doing things like staying at casa particular guesthouses, eating at paladar restaurants, hiring independent guides. Doing this in a meaningful and fun way, along with navigating often complex and unpredictable logistics, is our specialty.
Read the US government's exact guidelines for Cuba travel here, especially pages 2 and 7 for the "support for the Cuban people" visa category.
Getting your visa is now built into the airline booking/check-in process, and direct flights now run from Boston and other major US cities direct to Havana for reasonable rates. For more about getting your visa, see About Cuba Travel - Visas
Cuba is known to be an extremely safe country for foreign travel. US visitors consistently find the Cuban people to be warm, welcoming, and appreciative of positive connections with the US.

Laura Quincy Jones & Yasser Torriente-Rodriguez
We're a US-Cuban couple living in Havana with our baby daughter Rosa, and we're proud to lead Cuba Art Adventures. Our spirited team of local professionals are your friends in Havana.
With Cuba Art Adventures, our goal is to introduce you to the real Cuba that we know and love, and help you make the most of your time here without worrying about logistics. We want you to be sure to enjoy your vacation with your fellow travelers and new Cuban friends!
See more about Our Team.
Events in the Boston Area this Fall
"Meet the Real Cuba" workshop presentations with Laura & Yasser
Learn how Cuba travel can be legal and stress-free in 2019-2020, even given shifting US requirements
Collect travel tips on how to have an authentic and inspiring cultural experience in Havana and beyond

See the best of Cuban art, dance, and music as well as iconic favorites – old cars, cigars, beaches, architecture – in context

Discover the island's deep social-cultural gems including resourceful and resilient responses to challenges, multi-ethnic culture, education and social consciousness

Have an opportunity for Q&A with Laura and Yasser
Cambridge - Sat Sept 28, 12:00-6:00pm, Cambridge Open Studios event venue Lunder Arts Center, Lesley Univ, 1801 Mass Ave, Porter Square, Cambridge - FREE!
Cohasset - Sun Oct 6, 1:00pm, South Shore Arts Center, 119 Ripley Road, Cohasset - FREE!
Brookline - Thurs Oct 10, 7:00pm, Brookline Adult & Community Education Center - register at https://brooklineadulted.org - $10
Arlington - Tues Oct 15, 7:00pm, Arlington Adult Education Center - register at http://www.arlingtoncommunityed.org/ - $6
Somerville - Sun Oct 20, 12noon, Somerville Armory Cafe, 191 Highland Ave, Somerville - FREE!
Latin American Film Festival – Dec 5-Dec 15, 2019
Havana Jazz Festival – Jan 12-Jan 19, 2020
International Cuban Dance Festival – April 20-April 26, 2020
International Ballet Festival of Havana 71st Anniversary – Oct 28-Nov 7, 2020
Havana Arts Biennial – April 2021
Join us for one of these festivals!
Cuba Art Adventures is running "open sign-up" trips for each festival for up to 10 people each. Join other creative travelers, our great local guides and hosts for a week of Cuban adventures, festival events, and meeting with dynamic artists in small groups.
All trips will be planned for seven days of accommodation and itinerary, from Saturday to Saturday that include the festival dates.
Already have a family and/or friend group with which you'd like to travel for one of these events? No problem - we will organize custom trips around these events at request.
For more information on all, email lauraquincyjones@gmail.com
Meet Cuba in your own way
Led by charismatic and helpful local guides, experience authentic Cuban cultural activities…and have a chance to explore on your own.
You probably already know your best Cuba travel buddies – extended family, friends, or colleagues and collaborators with common interests. Gathering your own small group of 3-10 people, choosing your own dates for travel and customizing your package with CAA gives you the flexibility and personalization to relax and enjoy Cuba in your own way.
You and your travel partners can choose your own adventure. Laugh together and feel the wind in your hair as you ride along the Malecon seafront in a vintage car. Snap photos and ask all the questions you can think of as you take a walking tour of Old Havana. Visit renowned museums, cultural sites, private galleries and urban murals. Enjoy day trips to the gorgeous Vinales tobacco valley and Cuban beach towns. Smile back at – or join - old men playing dominoes and kids playing soccer on dusty street-corners where music and laughter mix. Loose your extra left feet as you twirl on the dance floor to the beat of Cuban rumba, salsa and son with dancers who are as stunning as they are welcoming. Watch the afternoon sunlight fall on Havana's gorgeous, crumbling architecture. Walk down dirt roads with third-generation farmers who cultivate the country's renowned organic produce, tobacco and sugar cane. Relax in the Old Square with a cocktail or a cigar. Float in turquoise Caribbean waters under the sun. Customize your tour to your interests.
Classic "casa particulare" bed & breakfasts provide a personal window into Cuban life
Run by local families, these private guest houses are clean, comfortable, and equipped with kitchens and air conditioning. Bathrooms have showers and hot/cold running water. Casa breakfasts are typically a feast of tropical fruit, eggs with or without ham, rolls, coffee/tea, and fresh fruit juice made to order. In Havana, all of our casa are in the heart of the Old City.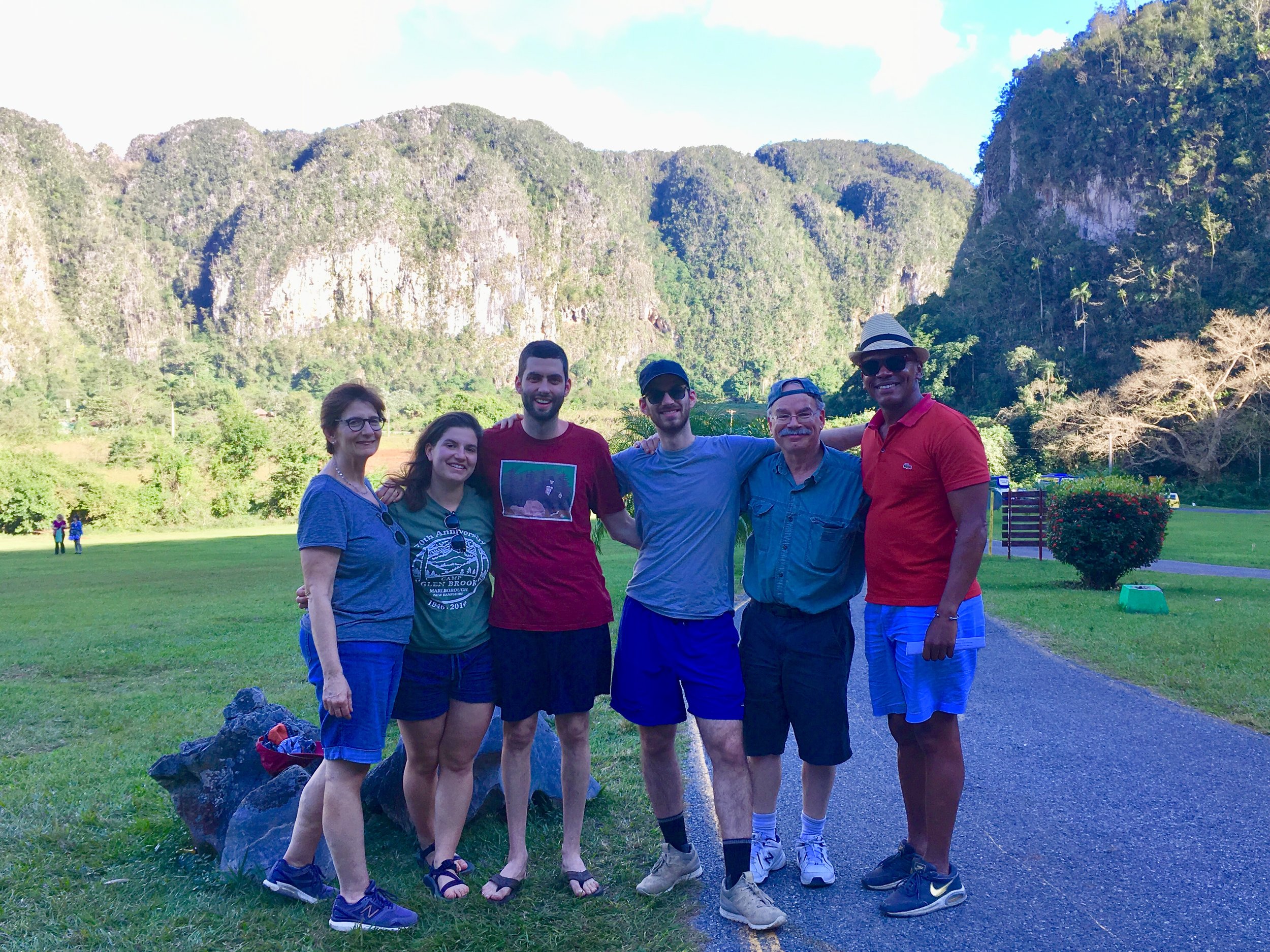 Down-to-earth travel and genuinely educational and people-to-people activities, off the tourist pipeline.
Both the US and Cuban governments encourage travelers to get to know Cuba up close, but want your travel to be organized. In a logistically complex environment, the support of a local provider like CAA that will introduce you to great Cubans and new experiences in a headache-free way is invaluable – and legally sensible. Our guides for excursions are knowledgeable and give personal as well as historical experience.
Our guides for excursions are knowledgeable and give personal as well as historical experience. Our hosts are elegant and welcoming casa owners. Our salsa teachers make it easy to relax and have fun in Cuba. The Cuban friends who join us for meals will share their life experience and views, and be eager to hear your impressions of the country they love. Discover the living alchemy of Cuba's mixed cultural, ethnic, religious, and artistic traditions with roots in Africa, Europe, and Latin America through the lives of new Cuban friends. Get lost in conversations with open-hearted, intelligent Cubans that will leave you inspired, wonderfully confused, and craving to know more. Most of our travelers to Cuba tell us that in a country of beautiful and compelling sights and experiences, it's the people who leave the strongest positive impression. Here, it will be easy to make Cuban friends and begin to see the country through their eyes.